TMvision Add-on
TMvision Add-on is a software access that allows you to upgrade TM Robot with many more powerful vision functions. Equip your robot with additional modules to maximize its robotic vision capabilities.
External Vision Module (2D)

Purchase the External Vision Module to enable TM Robot's connection with external cameras, and implement advanced vision installations, such as Eye-to-Hand and Upward-Looking camera positions. Find out more external camera models that are available, please click here.
Eye-TO-Hand(ETH)– The camera and the arm can work separately at the same time, so the total cycle time can be shorter
– This is recommended for applications like conveyor tracking, object loading and unloading, barcode reading, quality inspection, and etc.
Up-Ward Looking– Upward-looking mode has better positioning more accuracy
– This is recommended for applications that requires high-accuracy assembly, such as mobile phone or electronics assembly
TM 3DVision

The TM 3DVision module helps TM Robot perform 3D object positioning on various objects. This robot vision module is required to use with selected 3D camera models, please click camera 1 & camera 2 to learn more. Users can also use this module to generate a 3D point cloud for objects with the external 3D camera or use a pre-defined CAD file of the object. This function provides three different 3D object positioning modes:
Geometry
Use geometric shapes to identify the object
Pre-Defined CAD
Use pre-defined CAD model to identify the object
Point Pose
Use point poise as reference to identify objects with irregular shapes
Increase Positioning Efficiency with AI Clustering Function

This module includes AI clustering function which can divide unidentified objects into several groups. This can help to reduce calculating efforts, and shorten the time needed for object positioning.
Collision Check Function
3D vision is often used in 3D bin picking applications, the collision check function can prevent the TM Robot from colliding with its surrounding objects, or the robotic arm itself. This function is useful to avoid any collisions before
AI Module

The AI Module can enable your TM Robot to import a deep learning model, and allows it to perform AI object classification, and AI object detection.
This TMvision module needs to be used with our TM AI+ solution, a training server software designed for TM Robot. Please click here to learn more on TM AI+.

*Each license can be used on 1 robot arm
**This TMvision module needs to be used with our TM AI+ solution, a training server software designed for TM Robot. Please click here to learn more on TM AI+
AI Classification
The robot arm can classify the object
based on the label of the object
AI Detection
The robot arm can detect and identify all the objects
based on their label and mark them out
Other Advanced Vision Modules

Purchase the below modules to acquire more types of robot vision functions:
OCR Module
 Include OCR and number OCR
Support 9 common fonts and their bold formats such as Arial, Verdana, Times New Roman and etc.
Number OCR can determine positive/negative numbers and decimal point
Identify & Measure Module
Includes pose variation, specific color area size, subtract reference image, line burr, count(irregular object, shape, image), distance & angle measurement and etc.
TMflow Offline Programming
TMflow Editor provides a convenient way to open and edit projects offline. The user can edit all nodes in advance, including logic, variables, motion type, and layout of the overall flow. By importing the project to the TM controller, you can easily overwrite the actual point to flow according to your pre-arranged node name.
No Need To Learn New Software
No extra training and learning, TMflow Editor has the same interface as TMflow. On the user's personal computer, TMflow editor can build and edit projects easily.
Keep Robot Production Efficiency
TMflow Editor can modify projects (logic, variables, etc.) offline, reducing the time cost of stopping the robot. Users can easily modify the project on your computer with simple operations. Adjust the project offline, and import to real robot. Keep robots productive.
Workstation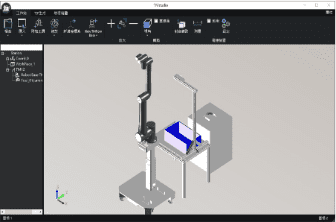 Allows users to import robot and environment model for simulation before actually building the workstation and develop robot project
TCP Generator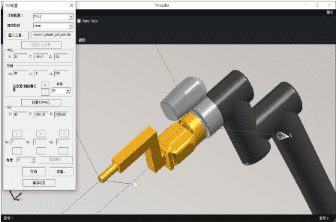 Help users set TCP information in the drawn tool end CAD file.
TM 3DVision Application
The generated workstation and TCP and be imported into TMflow and can be used in TM 3DVision Bin picking application. It can further combine with TMflow collision check node to prevent collision during the process of picking/placing objects.
Palletizing Wizard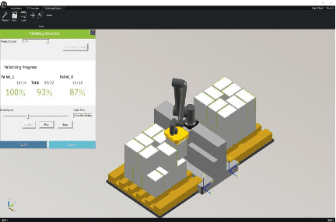 Simulates and exports the path of the TM Palletizing Operator.
TM Palletizing Operator Application
TMstudio Palletizing Wizard is a application-based software which provide best solution for customized palletizing tasks, palletizing simulation and collision check.
TM ROS Driver
The Freedom to use Your Own-developed
Program to Control TM Robot
TM ROS Driver is designed for developers who wants to control TM Robot with their own-developed programs. TM ROS
Driver can connect TM Robot's operating software (TMflow) with external program and transferred the control of the robot
in between based on users need.

The Best Solution For Object Handling Problems
conveyor Tracking can capture information about the position and orientation
of objects based on vision or sensors for highly accurate dynamic conveyor
tracking.
Perfect Software And Hardware Integration
No additional controller is required, and the camera, encoder and EtherCAT
expansion module can be used with the specified model.
TM Robot Management API
Connecting TM Robot to Your System for IoT Management
Nowadays, businesses are introducing IoT management systems into their factories. Collects data from all equipment and devices for monitoring and analyzing. Our TM Robot Management API assists system developers to integrate TM Robots into their existing system with ease. Thus, helping factory owners to enhance business value and ROI leveraging IoT.
Easy to Deploy
Support platforms like Linux or Ubuntu
Multiple Connections
Realize IoT Management
Multiple Interface
Quick Integration with
unlimited languages
TM Robot Management API can support multiple data communication interfaces, improving the efficiency to manage all your manufacturing data to perform IoT management
Collect data from multiple TM robots and publish it to the user's existing management system for more application