Conveyor Tracking
The Best Solution for Object Handling Problems
conveyor Tracking can capture information about the position and orientation of objects based on vision or sensors for highly accurate dynamic conveyor tracking.

Perfect Software And Hardware Integration
No additional controller is required, and the camera, encoder and EtherCAT expansion module can be used with the specified model.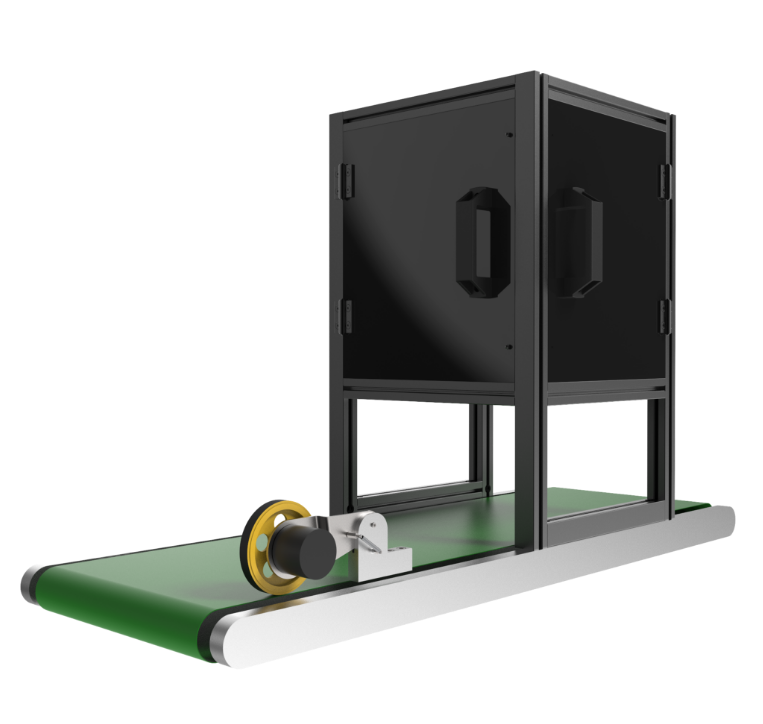 SPECIFICATION
Recommended scope of use
a. One robot can be used for two conveyors (one pick and one place).
b. Conveyor reference speed: < 300 mm/sㄡ
c.Average precision ± 1mm (when the workpiece angle varies within ±15 degree).
The supported cameras are as follows:
Device name

Camera

Interface

GigE

Model

Global shutter

Rolling shutter

Basler acA2440-20gc

(Color 2/3 Sensor)

Basler acA2500-14gc

(Color 1/2.5 Sensor)

Note

When the conveyor speed is <300 mm/s, the average error is ±1 mm.

The Rolling Shutter camera is recommended for use only at low speeds (conveyor speeds <100 mm/s) with low accuracy requirements.
TM External vision
By purchasing the software license of TM External Vision, you can connect and control external camera with the TM Robot's control box and to realize advanced application functions, such as Eye-to-Hand positioning function and Up-ward looking function integrated with external camera and robot.
(Support camera model: Basler acA2500-14gc, acA2500-14gm,to know more detail, please visite TM Plug & Play page) Eye-TO-Hand(ETH)
– ETH establishes a relationship between the external camera and the robot via EIH calibration procedure. After the object is positioned with a fixed camera arranged in the environment, pick and place function can be executed easily.
– It is also easy to convert an external camera into a delicate bar code reader or a  detection sensor through the TM Robot built-in visual function. Up-ward looking
– Up-ward looking Robot can compensate deviation of gripper and object (Gripper-Workspace) after robot picked up the object using Up-ward looking function with an external camera. It can minimize application errors of high precision assemblies and placing applications.
Support functions: positioning compensation, AOI.
TMflow Editor
TMflow Offline Programming

TMflow Editor provides a convenience way to open and edit project offline. The user can edit all nodes in advance, including logic, variables, motion type and layout of the overall flow. By importing the project to TM controller, you can easily overwrite the actual point to flow according to your pre-arranged node name.
No Need To Learn New Software
No extra training and learning, TMflow Editor has the same interface as TMflow. On user's personal computer, TMflow editor can build and edit projects easily.
Keep Robot Production Efficiency
TMflow Editor can modify projects (logic, variables, etc.) offline, reducing the time cost of stopping the robot. Users can easily modify the project on your computer with simple operations. Adjust the project offline, and import to real robot. Keep robots productive.