Techman Robot Collaborates with Taipei City's Department of Education and Siemens to Cultivate Industry 4.0 Talents for Technical High Schools
On September 18, 2020, Techman Robot, the Department of Education of Taipei City, and seven technical high schools signed an industry-academia collaboration MOU, where over TWD 5.7 million worth of software and hardware equipment is donated to these schools in Taipei City. In the future, technical training, certificate preparation and examination will be conducted to provide students with new internship opportunities and talent training courses. The signing ceremony was attended by Taipei City's Deputy Mayor Tsai Ping-Kun, and the principals of the 7 technical high school and its students. They also presented Techman Robot with a certificate of appreciation to commend their contributions to technical education.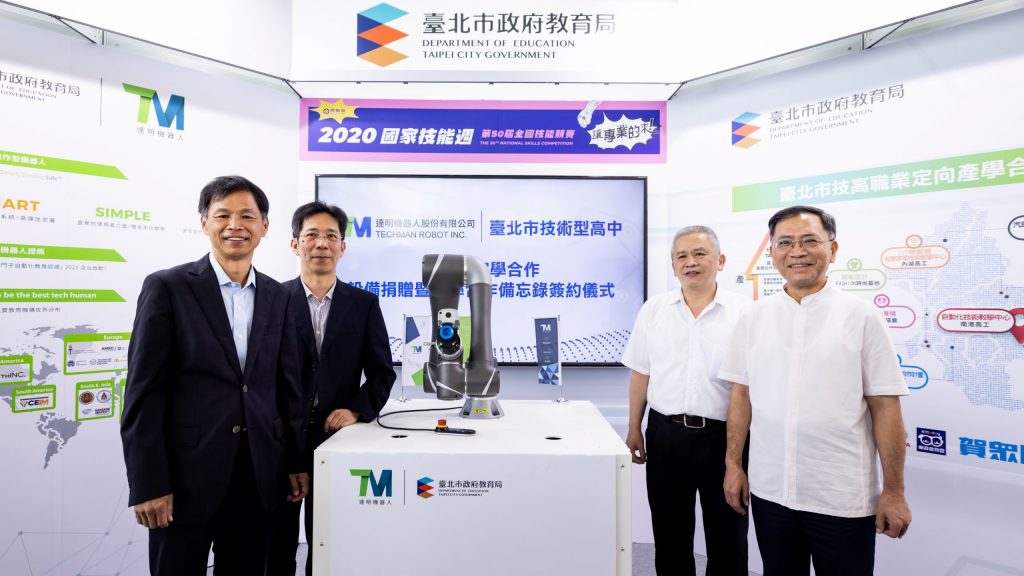 According to the Taipei City Department of Education, they are enthusiastic to join forces with Siemens and Techman Robot, the second-largest collaborative robot maker in the world, to create a smart factory talent training base at the Automation Training Center in Nangang Vocational High School. Besides the introduction of collaborative robots and smart factory management software, both parties jointly design smart factory practical courses, to dive further in on smart robot applications, smart manufacturing, and practical factory operations that combine AI and Big Data analysis. By having collaborative robot certification and Siemens' SCE certification, they hope that students can gain more internship opportunities and prepare them for employment.
The director of TM Academic commented that in order to bridge the gap between current robot certificates and industry requirements, Techman Robot has launched collaborative robot certification courses (beginner/intermediate/advanced) based on their well-experienced knowledge in automation. From single station applications, production line applications, to implementing Siemens' PLC automaton training at smart factories, the course aims to optimize the smart management of manufacturing factories. The certification course will be launched in 2021, and there will be 4 exam venues in northern Taiwan in Nangang Vocational High School, and also one in central and southern Taiwan respectively. An estimate of 5,000 applicants nationwide is expected to take the exam next year.