The International Data Corporation (IDC) has predicted a new era in Global Digital Transformation (GDX). As a leading collaborative robot and smart vision brand and manufacturer, at Techman Robot we have brought a series of solutions for smart manufacturing upgrades to the Taipei International Industrial Automation Exhibition. We provide TM AI+, a software solution that fully Integrates TM Robot with vision system and AI technology, TM Palletizing Operator, an intelligent palletizing system that integrates both software and hardware, and TMmanager, a smart factory software that drives digital transformation by managing production data effortlessly.
TM AI+
Techman Robot has successfully developed the TM AI+ system using the advantage of built-in vision – the industry's first-ever integration of traditional machines and advanced AI vision in a single robotic system. Without the need for additional controllers, the manpower, time, and money required in past integration have been considerably reduced. The built-in machine vision of TM Robot integrates with light, industrial cameras, and sensing elements to capture images. The deep learning technology of AI is also combined in order to accurately sense the shape, type, and color of an object as a means to further enhance inspection efficiency and difficulty in automated production, improving the quality and accuracy of inspection in different industries.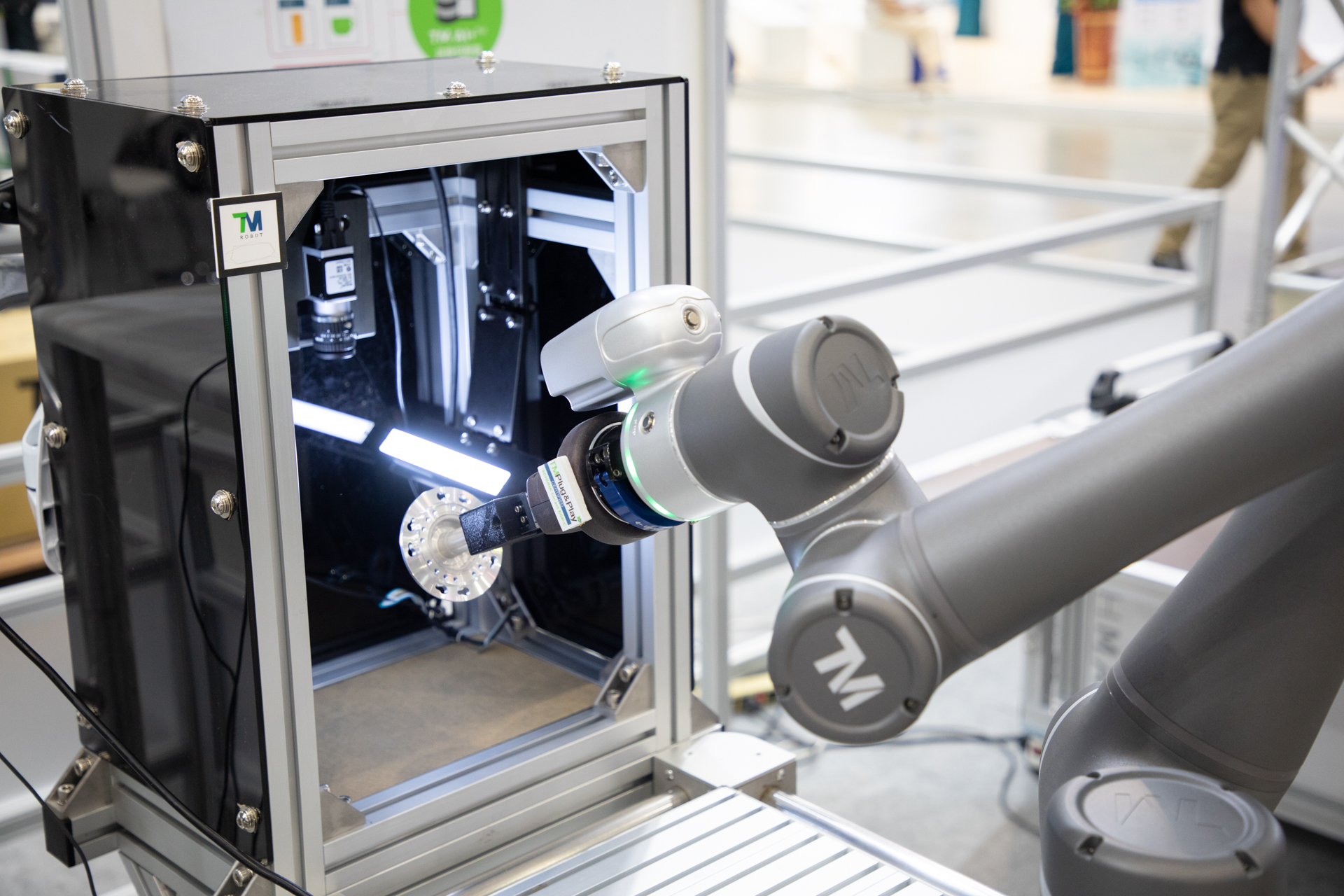 TMmanager
Techman Robot has always striven to assist different sectors in achieving automated production for smart factories through virtual integration, IoT, intelligent equipment, and robotic applications to build a smart factory that is highly applicable and functional. The capabilities of our smart factory management – TMmanager – launched by Techman Robot are as follows:
The data collection and monitoring system provides customers with real-time factory equipment management and monitoring of equipment status
Control over the manufacturing site enables collection of manufacturing data and provides full traceability
The user-friendly interface allows easy data processing and can be customized as required
Real-time production status allows the operator to grasp first-hand production information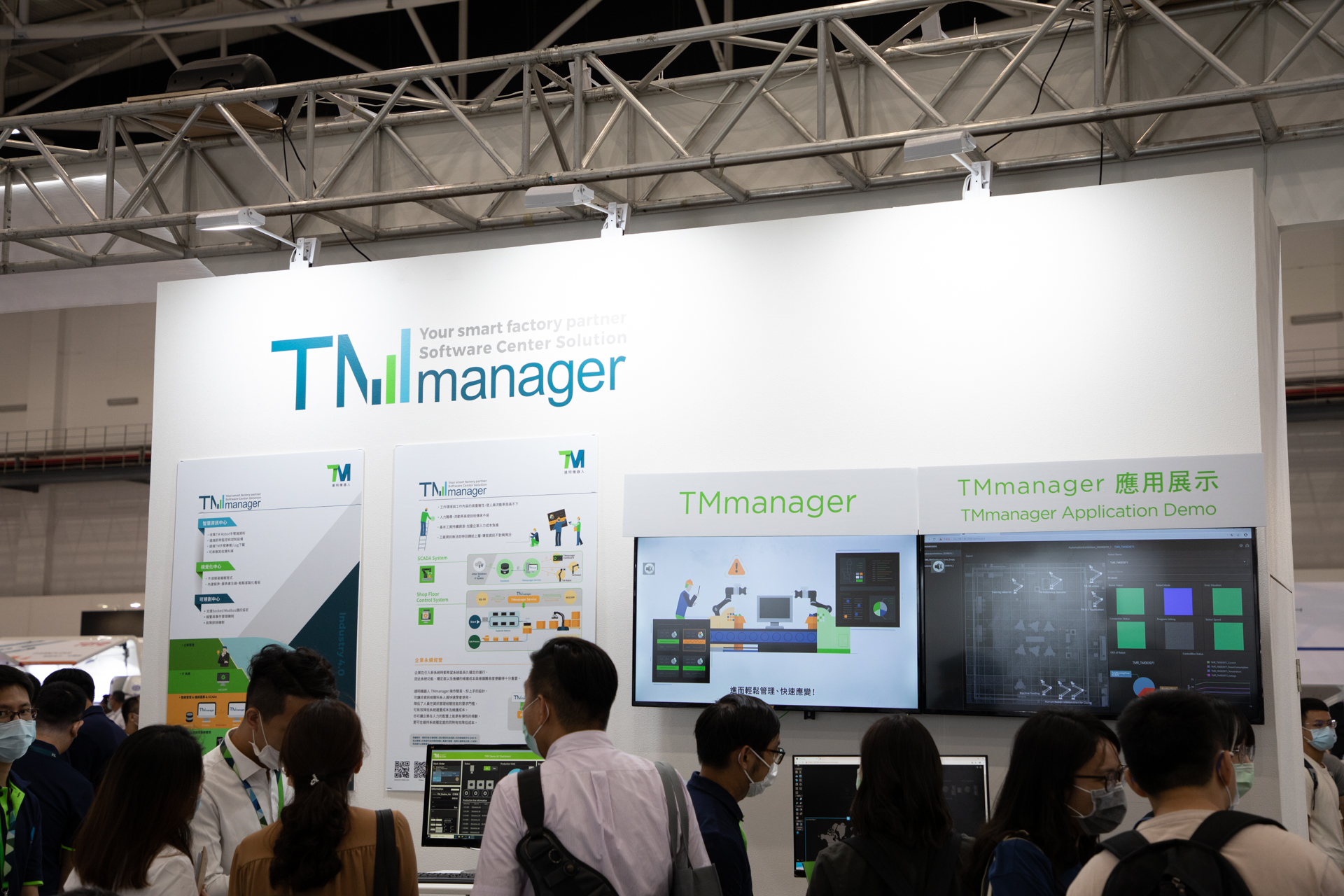 TM Palletizing Operator
The TM Palletizing Operator is an operating system unit exclusive to intelligent palletizing. With built-in guiding software, it assists users to easily set up the pallet specification, carry out palletizing simulation and collision testing beforehand, and shorten the duration of pallet setting from three months to half a year to five minutes. In addition to being certified by CE, and 13849-1, the intelligent palletizing complete solution of TM palletizing is the first intelligent palletizing system module to obtain the ISO10218-2 international third-party safety certificate in Taiwan. It can be applied to warehousing, logistics, food, and manufacturing amongst other industries.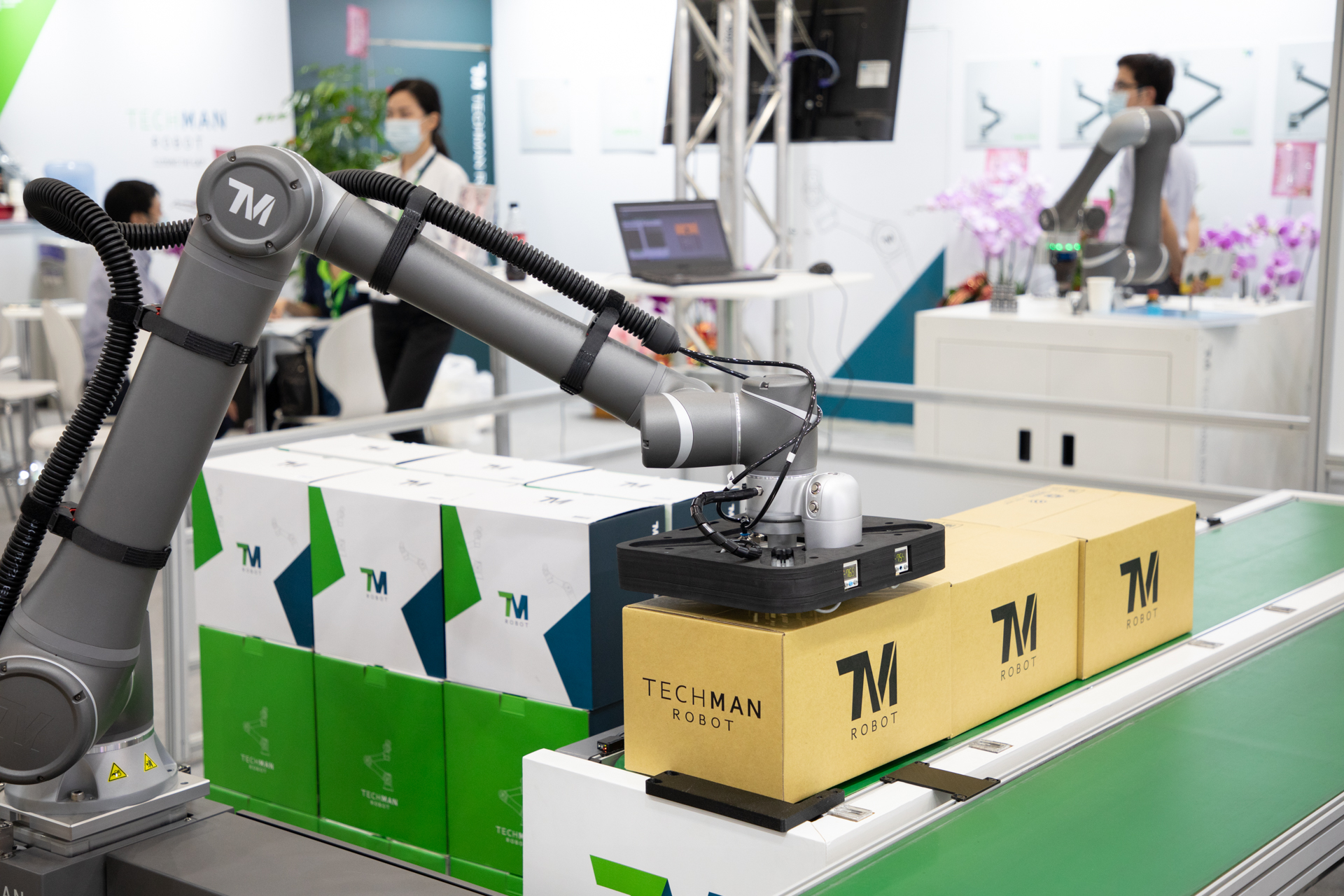 TM 3D Compact
TM 3Dvision is the latest launched vision function with an external 3D camera. An extended new function based on the vision node function in TMflow and there's no need to install or learn new software, all function and settings can be done on TMflow and no vision controller needed. There are 3 methods provided to matching the objects, by:
Importing a CAD model
Choosing a basic geometric shape (Sphere, Cylinder, Box..etc.)
Using a 3D camera to build the model
There are multiple shapes of objects to handle and flexible programming with TMflow and it can cooperate with the built-in eye-in-hand vision to complete the work. It provides a collision detection function via importing the scene model to program the application.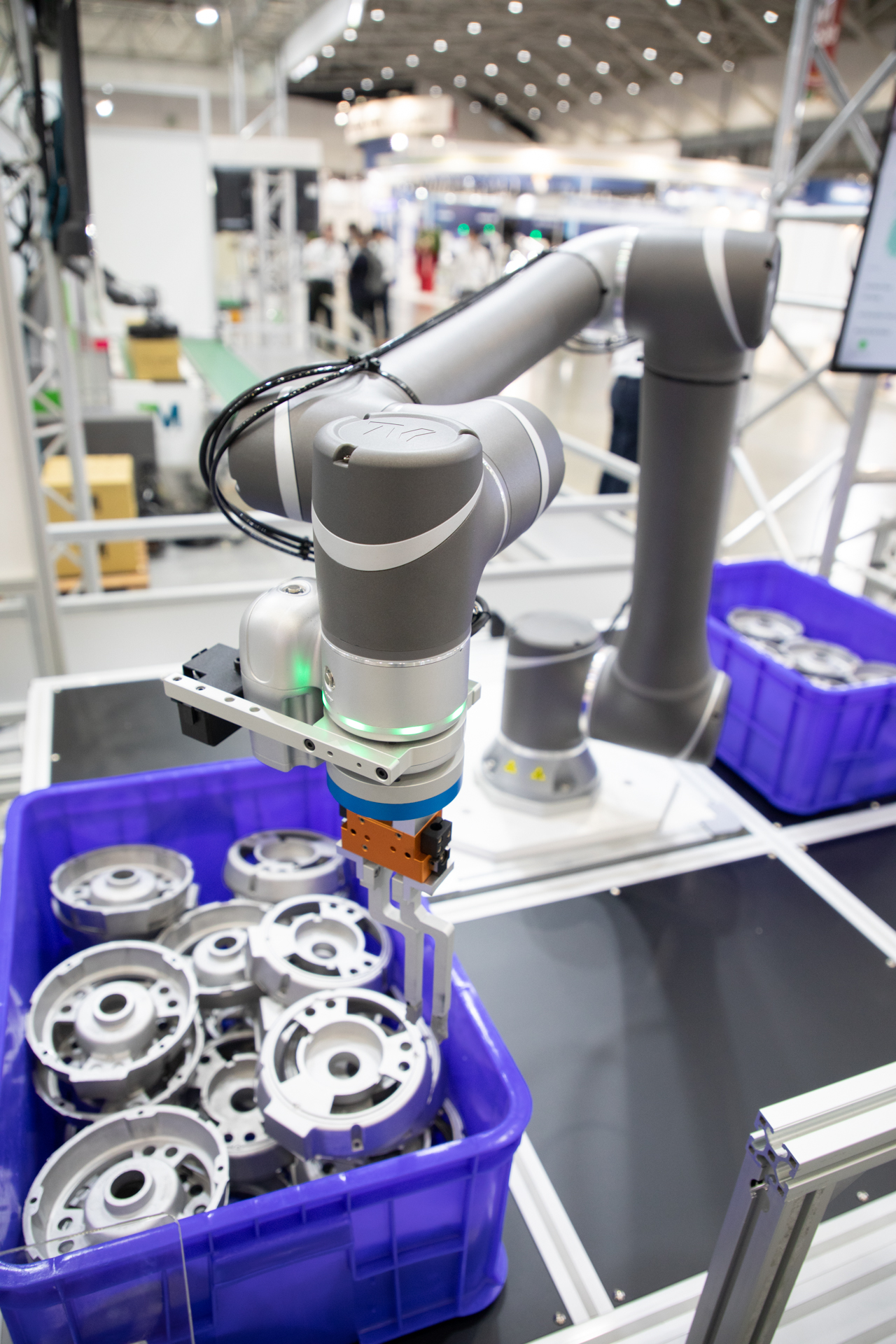 AR Collaboration with FTV
The innovative collaboration with FTV combines our Techman robot collaborative robotic arm and AR camera alignment technology. The robot instantly feeds back the displacement coordinates of the end camera to the virtual camera in the AR scene, simultaneously synthesizing AR 3D, to achieve the effect of virtual reality with precision reaching TV broadcast standards. Meanwhile, FTV news has also used the Techman robot collaborative robotic arm to produce and broadcast programs. For example: In its 2020 Election Prediction Program, the interaction between the anchor and virtual objects allowed news data and charts of the election battle analysis to be presented in a more technological way. When the Techman robot collaborative robotic arm is working with a broadcast-grade camera, it automatically calculates the movement point of the physical camera in order to simultaneously change the AR 3D image.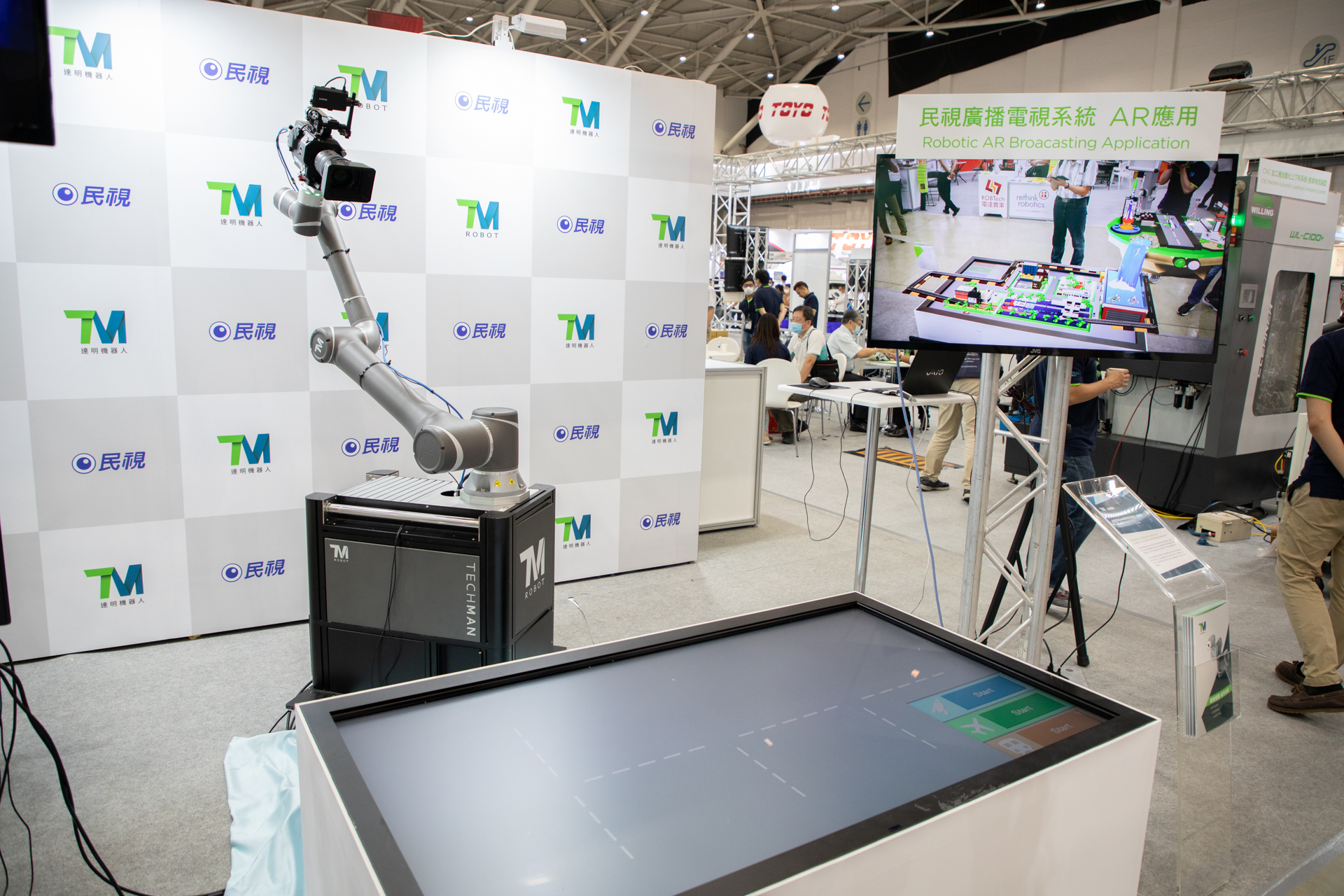 TM Academic
Techman Robot is dedicated to industry-academia collaboration opportunities and has established TM Academic. TM Academic is a professional education platform that covers all training services, providing comprehensive training courses and automated classroom design from secondary to higher education. Currently, we are planning collaborative robot license and internship opportunities for those who successfully graduate to enforce the integration of industry and academia so that the talents of these professionals are put to good use and enhance future competitiveness. So far, we have collaborated with over 30 universities and colleagues in Taiwan and overseas, such as: National Taiwan University of Science and Technology, National Taiwan Normal University, National Cheng Kung University, National Central University, and National Chung Hsing University. In the future, we will continue to strengthen our commitment to education in Taiwan and expand our dedication to global educational institutions.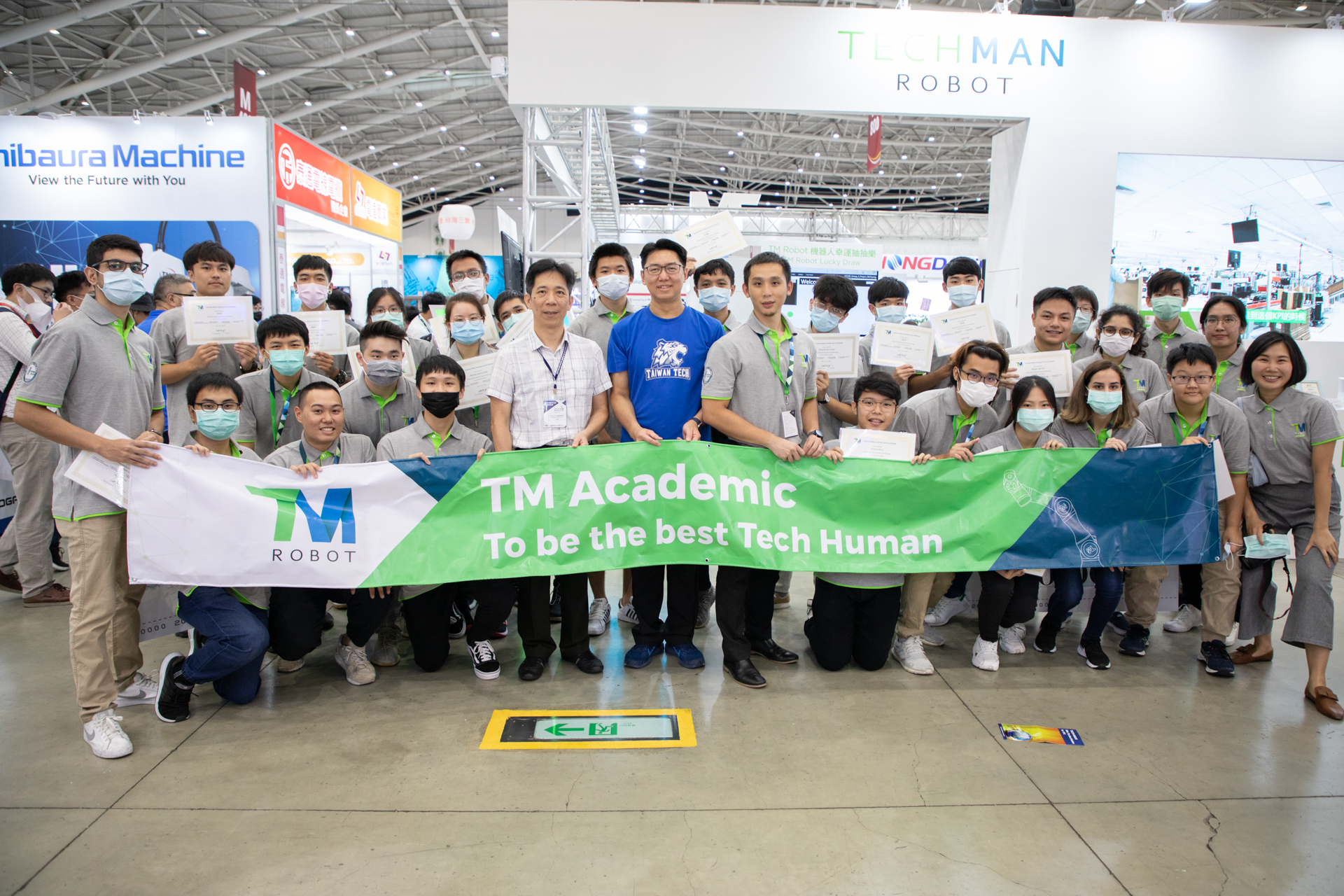 Given that global digital transformation is an unstoppable trend, with a series of new solutions ranging from traditional industries to warehousing, electronics manufacturing, and even into film and education, Techman Robot continues to innovative robotics technology and smart manufacturing across all industries.
Contact us today to find out more about our collaborative robots and automation solutions to improve your business.