The most intelligent collaborative industrial robot in the world – Techman Robot with built-in visual system and innovative user interface has become one of the industrial robots with fastest sales growth in the global market. Ever since its establishment for two years, its sales covers several tens of countries in Europe and Asia and this year it is actively launching in US market. The largest International Manufacturing Technology Show in Chicago, USA (IMTS) is the largest machine tool show in US and is the first stop for launching into the market for Techman Robot. In this six-day show commencing from September 10, the TM5, TM12, MWS product series are displayed that provide solution plans for various industries. With complete collaborative robot product line matching with certified TM Plug & Play peripherals/tools, Techman Robots can satisfy different payload requirements of various industries and various applications of industry 4.0 are integrated to build a solution plan for human-machine coexistence intelligent factory.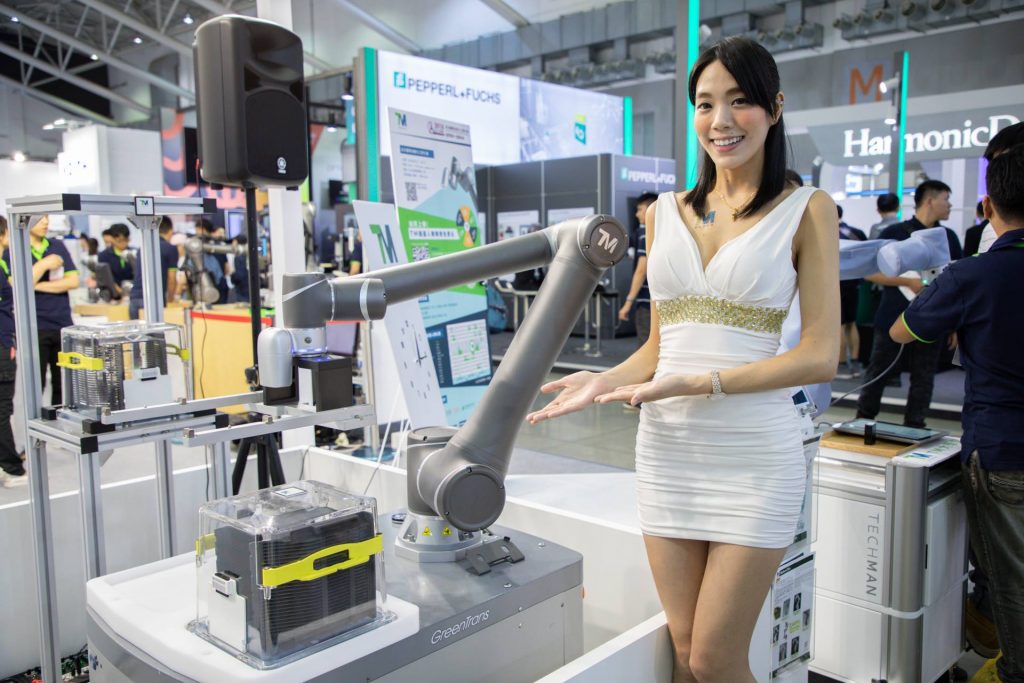 First Launching of New Product TM12 & TM14
Techman Robot with built-in intelligent vision is applicable to applications in various industries. However, in order to satisfy more requirements of industries, this year Techman Robot introduces the brand-new high payload robot product TM12 and TM14. The loadable capacity is larger than all the other collaborative robots in the market with similar arm length and the payload is as high as 12kg and 14kg and the working area is as wide as 1300mm and 1100mm.
TM Robot Mobile Series, Industrial Robots Can Walk Around
The Mobile Series in the full series TM robots (TM5M, TM12M, TM14M) are also introduced. DC can be used to cope with highly functional mobile AGV and by combining the built-in visual system of TM Robot to execute positioning and identification, it can cover highly compatible and high flexible applications and these are the first choice for application in the semi-conductor industry and logistics industry.
First Choice Plan for Application in the Industry:
Flexible Automotive Engine Lock
This time Techman Robot TM5 shows precision mechanical assembly, flexible automotive engine lock. The robot comes with mobile work car and through TM patented 3D Landmark function; TM5 can quickly interpret the displacement of station work desk and will recalibrate the point position. Not only the robot can quickly replace high flexible deployment of the production operation line temporarily, it can also quickly replace the online operation of breakdown machine arm and can reduce subsequent maintenance cost. In addition, the built-in intelligent visual function of TM5 does not requires large jig and positioning mechanism as it can position precisely by visual positioning to engage in high precision mission of screw locking.
The Requirement of Collaborative Robot Doubles
The International Federation of Robotics estimates that between 2018-2020, the global industrial automation market will grow 15% per year and requirement for collaborative robot is one of the cores of industrial revolution 4.0 and is the category that has the fastest growth. Techman Robot is the first collaborative robot brand and manufacturer in Taiwan. Ever since its establishment in 2016, its sales have been promoted to more than thirty countries in the world in just two years. It has more than forty agents in overseas and is the second largest industrial collaborative robot brand in the world. Regardless of customer or sales operating base, the sales jump in multiples. The smart, simple and safe characteristic of Techman Robot and its built-in visual system can reduce jig cost and the self-coordinate compensation positioning characteristic can comply with industry requirement of less quantity, diversification and rapid change of industry 4.0 and will be the utmost key weapon for various industries to realize the flexible automated unmanned factory.
About Techman Robot
Techman Robot is a global leader in collaborative robot and vision technologies. Supported by parent company Quanta Computer, we have managed to deliver the world's most intelligent collaborative robot with built-in vision which perfectly integrates hands, eyes and brains into one system. Techman Robots impressively improve the easiness of using industrial robots and remarkably reduce the cost and deployment time. TECHMAN Robot's vision is to apply TECHnology to enrich huMAN life and we will keep on innovation and promise to contribute the most friendly automation solution to the world. For more information, please visit