Techman Robot New Product Release: All-in-One TM Palletizing Operator and TM Smart Factory's New Software Solution, TMmanager makes a Debut
On August 21st, Techman Robot made a high-profile appearance at the Taipei International Industrial Automation Exhibition. This year, in addition to the built-in TM vision system of our human and robot collaborative robot, Techman Robot released an all-in-one application-based solution, the TM Palletizing Operator. It is an integrated intelligent palletizing solution that reduces programming effort. Techman Robot also launched a new software-based solution, TMmanager, a smart factory management system that connects all robotic arms and factory equipment to help businesses succeed in the era of automation.


TM Palletizing Operator, a new release from the TM Operator series, is a plug-and-play operation system exclusively for palletizing automation. With built-in guiding software, it can assists users to set up the palletizing specifications quickly, carry out palletizing simulations and collision tests beforehand, and even shorten the duration of pallet setting from six months to only five minutes. Our all-in-one palletizing solution is certified by CE, 13849-1, and it is also the first complete solution of a palletizing module in Taiwan to obtain the ISO10218-2, an international third-party safety certificate. This solution can be applied to warehousing, logistics, food, manufacturing industries, and many more.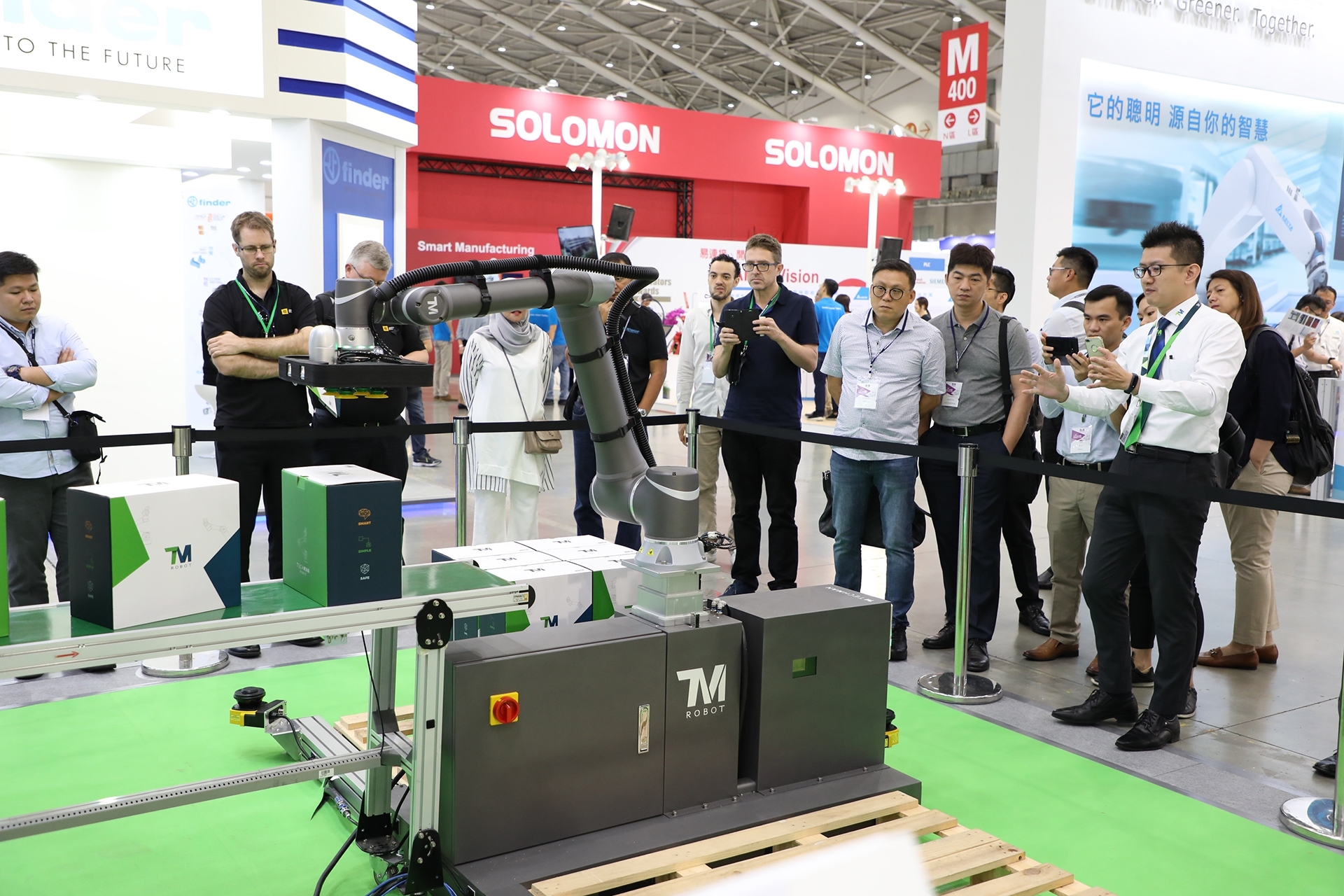 AI Robotic Arm: Barcode Reading & Material Sorting
In addition to the built-in intelligent vision that assists in sorting applications, Techman Robot applies AI detection technology to packaged clothing that can identify clothing labels. With the camera's wide view, the AI vision can accurately identify the placement, type, and size of the clothing. It can also overcome the reflective plastic packaging as a challenge, which the past technologies cannot do. TM Robot's built-in vison system can scan, read, and send the product information to the factory's management system for quick categorization and sorting, this drastically increases the factory's efficiency and processing yield.
Another application demonstrated in the exhibition is equipped with our TM Plug&Play partner's force sensor, which focuses on grinding and polishing with a controlled intensity that can complete complex curves and curved surfaces. TM 3DVision, the built-in 3D function inside TMflow and the robot control box, can conduct deeper container box picking with its intelligent collision detection. In addition to these industrial applications, TMmanager can be combined with an intelligent coffee ordering system to manage the robotic arm's work status in real-time, customize inventory and sales reports, and deliver intelligent catering service. In the exhibition, there is an area of cobots, where visitors can learn to complete a programming task in five minutes, and experience the most intelligent, simple and safe TM Robot.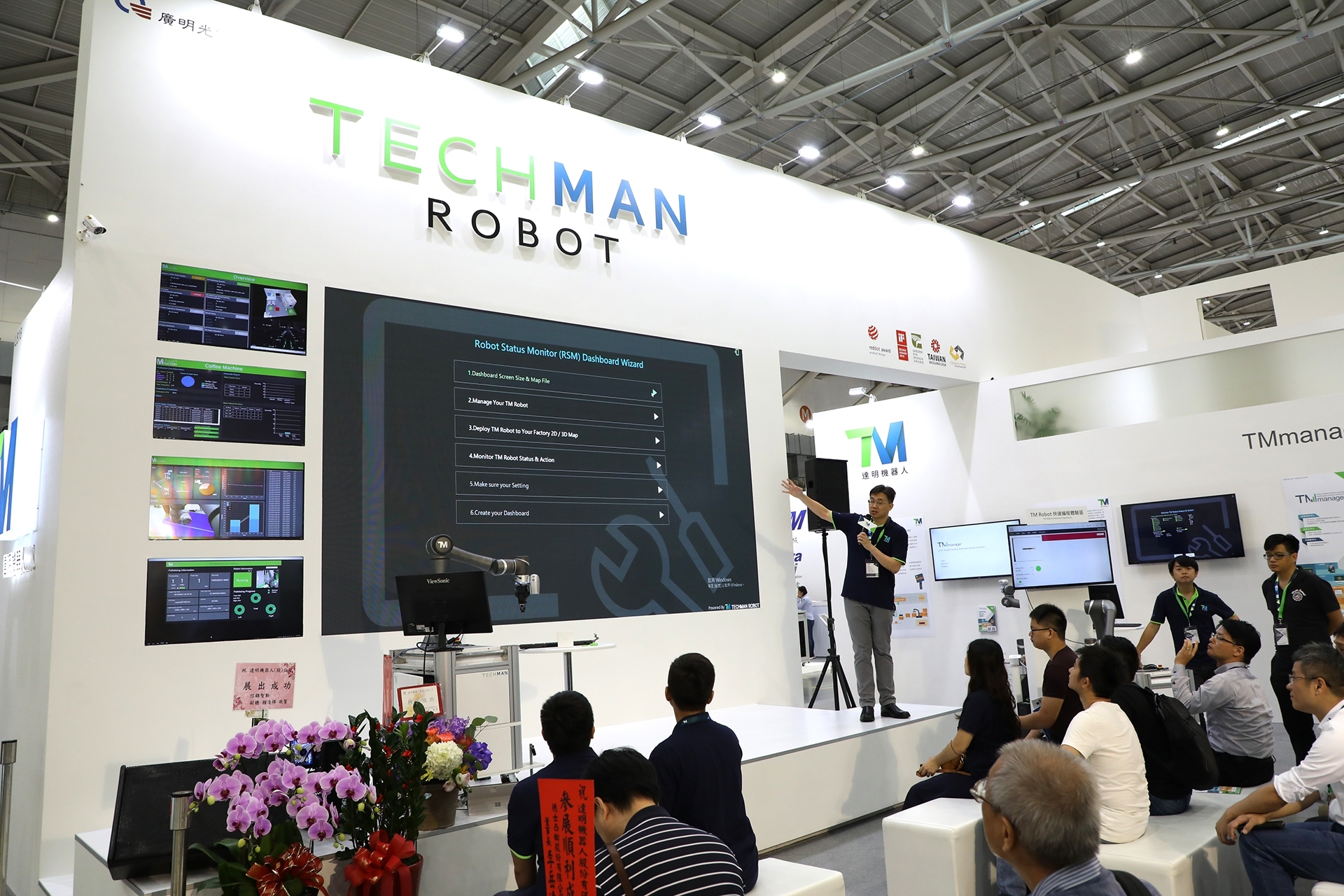 In July of 2019, the Occupational Safety and Health Administration announced the enforcement of a mechanical safety certification that is stricter than those of the EU, the United States, and Japan. As the world's first cobot with built-in vision, TM Robot is also the first in Taiwan to obtain the TS safety mark. While assisting enterprises of different industries to implement automatic production, Techman Robot also focuses on the occupational safety of every factory employee.
According to Techman Robot, besides their existing cobot solution, they will continue to develop new products like TMmanager, to help businesses advance in factory automation and aim to close the gap between traditional manufacturing and smart manufacturing. TMmanager is the exclusive robotic management system that can connect with TM Robot to monitor robotic arm operations and has various functional modules, for example, the Shop Floor Control System (SFC System) that effectively manages automatic machines in the factory. TMmanager also provides visualized data of the factory's production processes, and includes an automatic management system for real-time machine monitoring and data analysis. With its user-friendly, high-value, and high application flexibility, TMmanager provides a well-rounded smart management solution for factories in the era of Industrial 4.0.
In response to the ever-increasing needs for automatic solutions, the TM automation team has been established to create complete one-stop guidance solution services covering preliminary assessment, process design, system bidding, online commissioning and aftersales service. As well as remarkably reducing the integration period, labor cost, and construction of a new automatic system to help businesses maximize their capacity. With their extensive knowledge in automation, support from a strang R&D and automation team of nearly 100 members, and capability of serving the world's famous automobile and electronics manufacturers – Techman Robot improves the world of work for business owners and employees, by introducing increasingly intelligent robots into the workforce.